Welcome to
Beauty Secrets Academy
We offer advanced trainings to beauty professional so they can work with more clients and make more money doing what they love! Conveniently located inside Beauty Secrets Collective in Peoria, AZ
Hello Beauty Pro's
Whether you are new to the industry or are a more experienced beauty professional looking to launch your lash extension, teeth whitening, dermaplaning or spray tan career, we can teach you how!
The business and income potential when offering lash extensions, dermaplaning, teeth whitening & custom spray tans is endless!
At Beauty Secrets Academy, we offer the option to get certified with our online or in-person trainings. We also offer Hands on Custom Spray Tan trainings, Teeth Whitening trainings, Dermaplane Workshops and Mini advanced courses.
ENROLL NOW
Classic Lash Course
Online & In Person Classes Available
In Person Dates W/ FULL KIT INCLUDED:
Once you purchase our In Person course contact us at 602-803-2787 for additional Classic Course dates available and for more details.
ENROLL
Volume Lash Course
Online & In Person Classes Available
Once you purchase a course choose one of the dates below and contact us at 602-803-2787 for more details.
In Person Dates W/ FULL KIT INCLUDED:
March 24th 2023 w/ Alyssa
April 28th 2023 w/ Alyssa
May 26th 2023 w/ Alyssa
June 2nd 2023 w/ Alyssa
August 25th 2023 w/ Alyssa
ENROLL
What Other Students Are Saying:
Brandi C.
I had the privilege of being trained and certified in Eyelash extensions by Heather Ames. Not only was she extremely professional but she was the sweetest and most patient educator I've ever had, I felt like I knew her for years that's how comfortable she makes you feel! Heather was hands on with each one of us and didn't hesitate to answer all our questions, I felt so confident leaving her course! The best part is even after all these years, if I need anything I know I can reach out and she'll be there to help me! I'm a small business owner and can honestly say Heather truly inspired me to be the successful boss babe I am today!
Mila B.
My experience completing the Classic certification through Beauty Secrets Academy was exceptional. The entire process from seeking information, signing up and taking my class was very positive. I was impressed with the concise information and direct way it was presented. Their personal attention to my questions, learning needs, and helping me expand my product knowledge allowed me to walk away feeling excited in my ability to create a perfect customer lash experience. After my certification was completed the staff has continued to be available for intermittent questions as I grow my confidence.
Misti B.
Learning to do volume lashes was something I knew I needed to do after I started my aesthetics business. I did quite a bit of research before deciding on Heather's course at Beauty Secrets Academy
I knew immediately that I made the right decision. Heather was very organized, always encouraged a positive atmosphere, inclusive culture, and she shared her expertise with knowledgeable, easy to understand content.
After completing the course, I felt confident and motivated to start offering volume lashes to my new and existing clients. I saw a 50% lift in new clientele within 60 days. It was a game changer for me!
Although I completed the course some time ago, she is still there if I have product or technique questions. It was one of the best business decisions I've made.
Hi, I'm Heather!
When I'm not doing lashes, educating beauty professionals and running my day spa I'm spending time with my husband and two littles, camping or off roading!
I have been an eyelash extension & custom spray tan educator since 2011. Educating beauty professionals has always been a passion of mine and I'm always advancing my knowledge to bring the best lash education/tips & tricks to my students!
I have had the opportunity to train hundreds of esthetician's & cosmetologists over the years and I am so excited to bring my online academy with my signature coursework, to you all!
Once enrolled I offer 1:1 support alongside my educators to help you feel confident and ready to take clients!
Hi, I'm Alyssa!
From as far back as I can remember, I knew I belonged in an industry that was creative, expressive and artistic. I started my journey by getting a degree in fashion, which exposed me to some of the best experiences and influences. I've always felt the beauty industry goes hand in hand with fashion.
I quickly realized, this was the missing piece for me. Becoming an esthetician was what led me to become a lash artist. I want to be the best at what I do and for the last 4 1/2 years I have continued to grow within my industry and recently have pursued my passion of helping others grow, through educating. When skill and creativity come together, it's truly magical and I am excited to share my expertise with others.
Hi, I'm Donna!
Never in my life did I ever imagine I would be an educator. Many years ago, I felt like a piece was missing from my life. After struggling with my skin for many years, I enrolled in Aesthetic school. By the second day of Class, I knew what I wanted to do for the rest of my life. I never had confidence talking about skin, especially since it was something I struggled with. Taking classes similar to these built my confidence and now there is no stopping me. I want every student to be confident in what they do. Education and stepping out of your comfort zone is so important for growth. I am honored to be a part of your personal journey and to share my knowledge and experiences with you.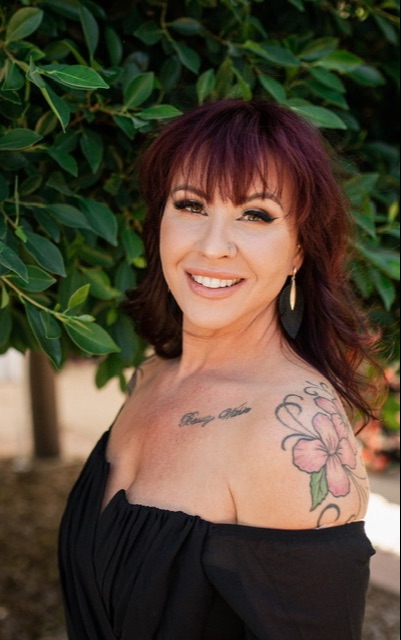 Hi, I'm Jessica!
I have been a licensed aesthetician since 2018 and part of the BSC family for the past 3 years and I wouldn't have it any other way!
When I am not working, I am spending time with my family, hiking or going to the gym.
Spray Tans have always been something I love getting, so when I was was given the opportunity to offer them to my clients, it just made sense for me.
I am beyond blessed to have the opportunity to be able to teach and pass along a new skill, and knowledge to help someone achieve their goals while doing something they love.
Hi, I'm Cassie!

Hi, I'm Cassie a Medical Esthetician and Educator at Beauty Secrets Collective and Beauty Secrets Acadamy.
Working with the public has always been a passion for me! I've been in the dental/medical field for 18 years. Ive experienced being a manager for dental offices, a surgical tech in an L&D unit, Dermatology lead and phlebotomist.
When I'm not working as a Medical Esthetician I'm with family and friends camping, traveling, and enjoying time with them.
My hope is that I can provide the leadership that I once was blessed to have with my educators! I can't wait to help you achieve further success in your professions!
COMMONLY ASKED QUESTIONS:
Do I have to be a licensed esthetician or cosmetologist to enroll in either course?
How do I earn my certification?
Do I get ongoing support?
What products do I purchase when I'm only taking the online course?
Do I get a kit with the in person lash course?
Follow @beautysecretsacademy on Instagram
Contact
Email: [email protected]
Call: 602-803-2787
---
Location
Beauty Secrets Collective
8510 W. Deer Valley rd. Suite 100
Peoria, AZ 85382